Due to the high demands of Emails I receive asking various questions, I have converted my entire site so that you can easily print out the entire contents of the site
into one PDF file: rms titanic.pdf.
YOU WILL NEED ADOBE ACROBAT READER VERSION 5 TO READ IT

to download the program FREE
INSTRUCTIONS HOW TO SAVE THE BOOK
1. Bookmark this page in case you lose it (press Ctrl + D together)
2. Once you have downloaded and installed the Reader simply click on the Titanic below.
3. The program should automatically start downloading the book.
NB: IT MAY TAKE SIX OR SEVEN MINUTES TO FINISH DOWNLOADING.
4. Once it has completly downloaded, use the save button on the toolbar to save the file wherever you want on your computer.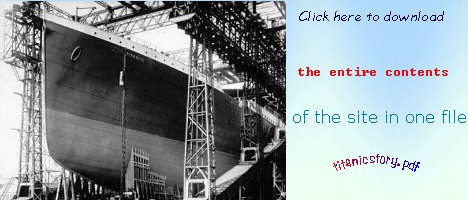 © 2000 TPD Turner